Every event is an exploration and a chance to learn.
We are truly grateful to be invited to
all the big events by each organizations, including
Taiwan's Tourism Bureau, Youtube Creator, and many more.
We are truly honored to be a part of Asia's biggest online booking platform,
KLOOK's Affiliate Partner Program!
Above all, we hope to share our travel moments and look forward
to ignite your passion toward traveling as well! :)
Taiwan Tourism Bureau Amusement Park Trip
September 11-15, 2017
Jenny, as a representative of Greanyduo, participated in Taiwan Amusement Park Promotion trip organized by Taiwan Tourism Bureau. During this trip, Jenny along with other famous Thai travel bloggers, net idols, and photographers visited various famous Taiwan amusement parks and hotels such as Lihpao Park, Dancewood Hotel Yilan, West Lake Miaoli, and Leofoo Park.
Taiwan Youtube Creator Day
2017
It's a big honor that we were invited to join the previous Youtube Creator Day event in Taipei, Taiwan. We learned a lot and were inspired by several famous Taiwan Youtubers such as 阿滴 & 滴妹 from @rayduenglish and Jason from @officialJF. We promise that we will produce more creative videos for you guys so don't forget to subscribe to our youtube channel!
Taichung Flower Expo & Tourism Fair
July 17th, 2017
We are grateful to be invited to Taichung Flower Expo & Tourism Fair! We were thrilled to meet all the famous bloggers #FanclubTaiwan (P'Ratto), #TaiwanGuru (P'Som), #SistarDiary (P'Neeni), #1000MilesJourney (P'Nueng), and #Aujummaวาไรตี้ (P'NamMon)! We look forward in becoming successful like our senpai! :)
eld By: Tourism Travel Bureau, Taichung City Government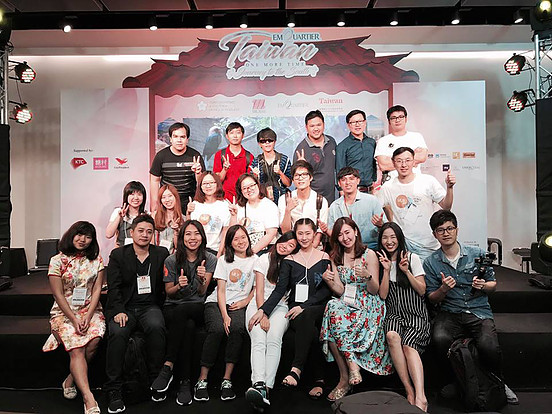 Taiwan One More Time 2017 & 2018
June 23- 25, 2017, June 1-3, 2018
Taiwan One More Time is Thailand's largest Taiwan tourism fair. It was such an honor that Greanyduo could participate in this big event in order to help promote Taiwan tourism to Thai people.
December 10-12, 2017
We are truly excited to be invited by Penghu County Government Economic Affairs Department and SaveMoneyInTaiwan! The authentic Penghu food, fun activities, and sightseeings never failed to spark fireworks in our hearts!
Sponsored By: Penghu County Government Economic Affairs Department (澎湖縣政府建設處), Sunscape (山水文創) & Save Money In Taiwan
Thailand's Designated Areas for Sustainable Tourism
Administration (DASTA) Travel Blog Contest Award
2018
We have always wanted to promote the beauty of Thailand to local Thai travelers and international travelers from around the world. We are happy that our winning blog has achieved in serving such purpose, and hope that more would fall in love with the beautiful landscape, city, and culture of Thailand.
Klook Affiliate Partner Program
2018
We are delighted and grateful to be a part of Asia's largest online booking platform, Klook's Affiliate Partner Program. We look forward to bringing our fans more exciting travel experiences via Klook! :)
2018
We are truly thrilled to be the final winner of Klook Curator 2018 Contest! It was a rough competitions with professional youtubers, bloggers, and net idols all around Bangkok! We are grateful to be selected as the final Klook Curator for our Korea trip! Within this 22days trip in Korea, we experienced exciting Klook products and brought back unforgettable travel moments for our fans!